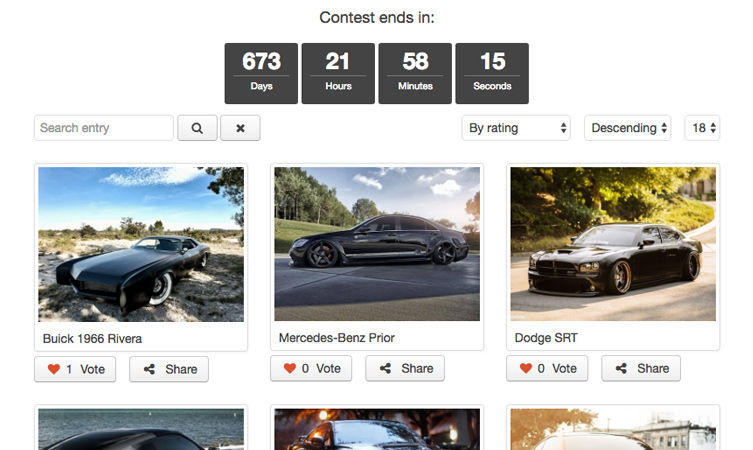 Best solutions to run voting contests on Joomla
If you have a local or global community website, there is a good way to boost interaction on the website and get tens of thousands of visitors and users via the vote contests. You can attract huge attention via inviting contestants to join the contests and suggest their photo or video content. A lady of the month, the strongest man, child pictures, sports competitions, even the best book, movie or the funniest pet – there are a lot of ideas to be released. The contestants will ask their friends to vote and you will get the traffic boom.
Today we will talk about such solution for Joomla.
NorrCompetition – a Joomla component for Online Vote Contests
This vote contest software gives you an ability to set up various contests with different media content and customize settings according to your needs.
You can set up the start and the end time for voting and for publication and play with permissions using Joomla ACL.
For instance, you can set up privileges for any user group and allow guests to vote, but registered users to submit new entries and etc.
If the contests have unique content, it is possible to hide entries from visitors before the voting is started and set up limits on voting: 10 votes per day and etc. The submitted entries should be approved by a site administrator and soon users can edit own entries. In such the case, the entry must be verified again and there is a special form in the back-end for the administrator to see the suggested changes and compare them to the previous version.
Here is a list of key features:
3 types of contests: Photo, Video, and Simple
Custom fields. You can embed HTML snippets inside the entry (e.g. Soundcloud songs)
Embed videos from Youtube, Instagram, Daily Motion, Vimeo and other.
Guests can submit entries
Update approved entries
Set up a voting frequency
Unfair vote protection
Multilingual support
Assign contests to categories
Display countdown timers in contests
Localization in different languages
ACL support
Give a Grand Prix to the Entry
You can give a Grand Prix status to the entry which will be highlighted in the list of winners if even it has fewer votes. It is the best way to show the choice of the jury.
Winners
The component has custom fields that extend entries page and you can make contests more informative and add such information as the following ones: photographer, make-up, age, city and etc. What is most important: the winners can be sorted by field. e.g. city: winners from Paris, winners from Berlin, Milano and etc.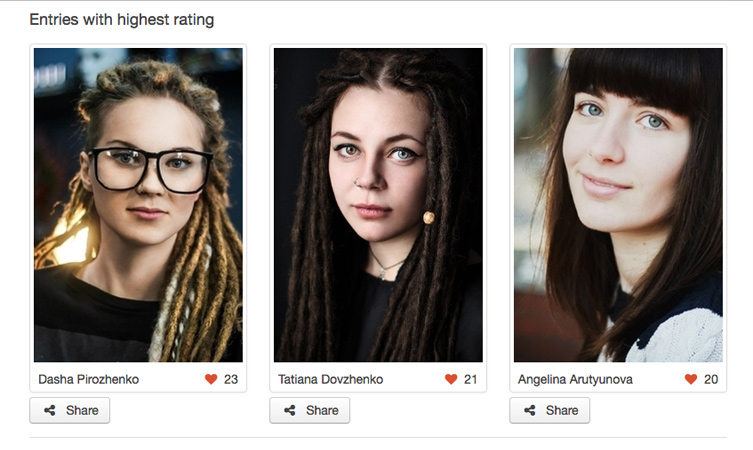 Flexible settings
NorrCompetition allows overriding global settings via contest settings which gives you a way to create contests with different scenario (design, vote limits and etc).
Also, you can select which contests are available in the submission form.
The flexible settings give you a wide range of running different contests. Moreover, there are special add-ons that extend voting contests with extra functionality.
Dynamic modules to add interactive effects on the site
You are on the way to finish configuring contests and there are different ways how to improve your site design with modules and increase visitors' loyalty.
NorrCompetition Grid
A grid module for NorrCompetition allows filtering entries by competitions via slight grid effect. The module has a lot of settings and it is easy to configure which elements should be displayed. Also, there is "Load more" navigation element and different sorting features.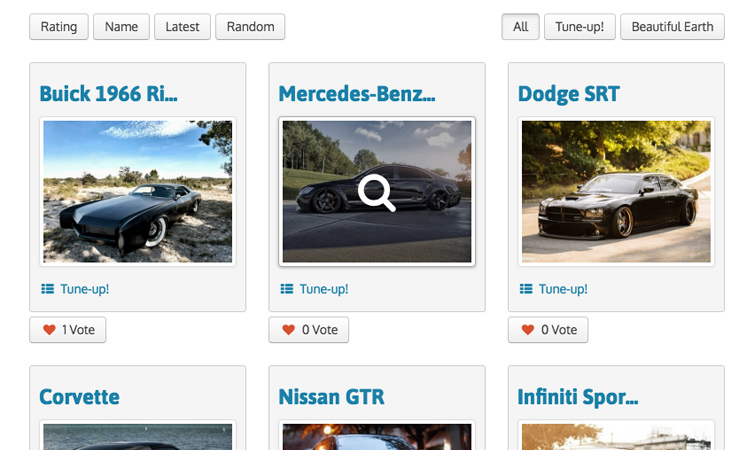 NorrCompetition Carousel
NorrCompetition Carousel module displays entries in a nice carousel mode with slides and various effects. The module comes with rich settings and you can configure elements to display and effects according to your requirements.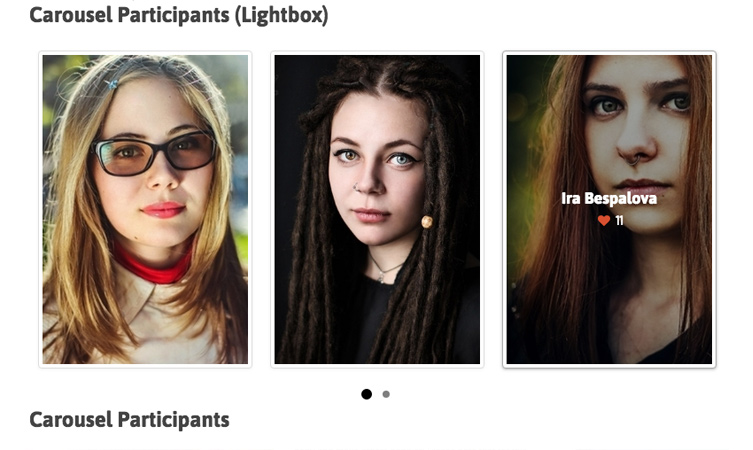 Make Social connects via social networking software
If you have built an online community website based on Joomla, it is time to combine the power of voting contests with social networking extension.
There are two integration add-ons:
NorrCompetition Application for EasySocial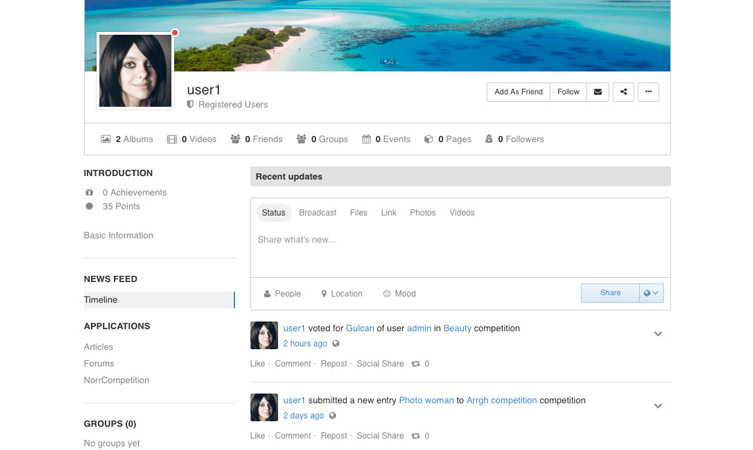 NorrCompetition Application for JomSocial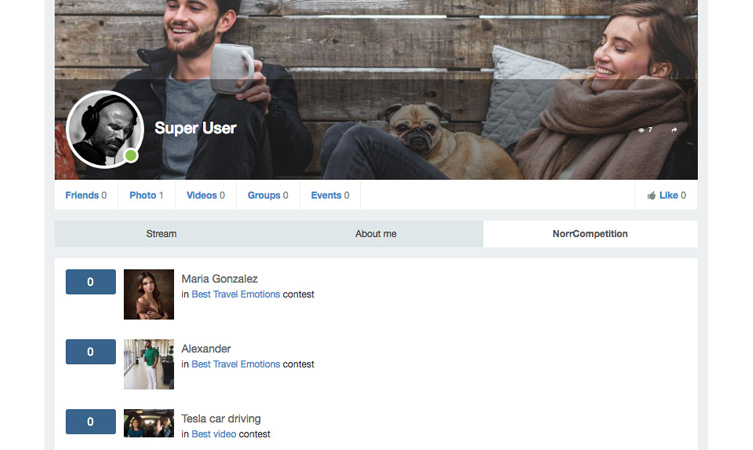 You can install an add-on and display actions performed in NorrCompetition to the activity stream and display the list of user's contest entries in a special App of the social network component.
Monetize your voting contests
You successfully get votes for Contest Entries, however, you would be glad to earn on contests.
NorrCompetition has an integration plugin allowing to set rules for AltaUserPoints and AlphaUserPoints – a reward and point software for Joomla.
Using AUP plugin for NorrCompetition you can assign points to users for actions they perform in NorrCompetition and set limits. E.g. to vote for entry the user should buy points. Such an approach opens powerful capabilities to earn on your voting contests.